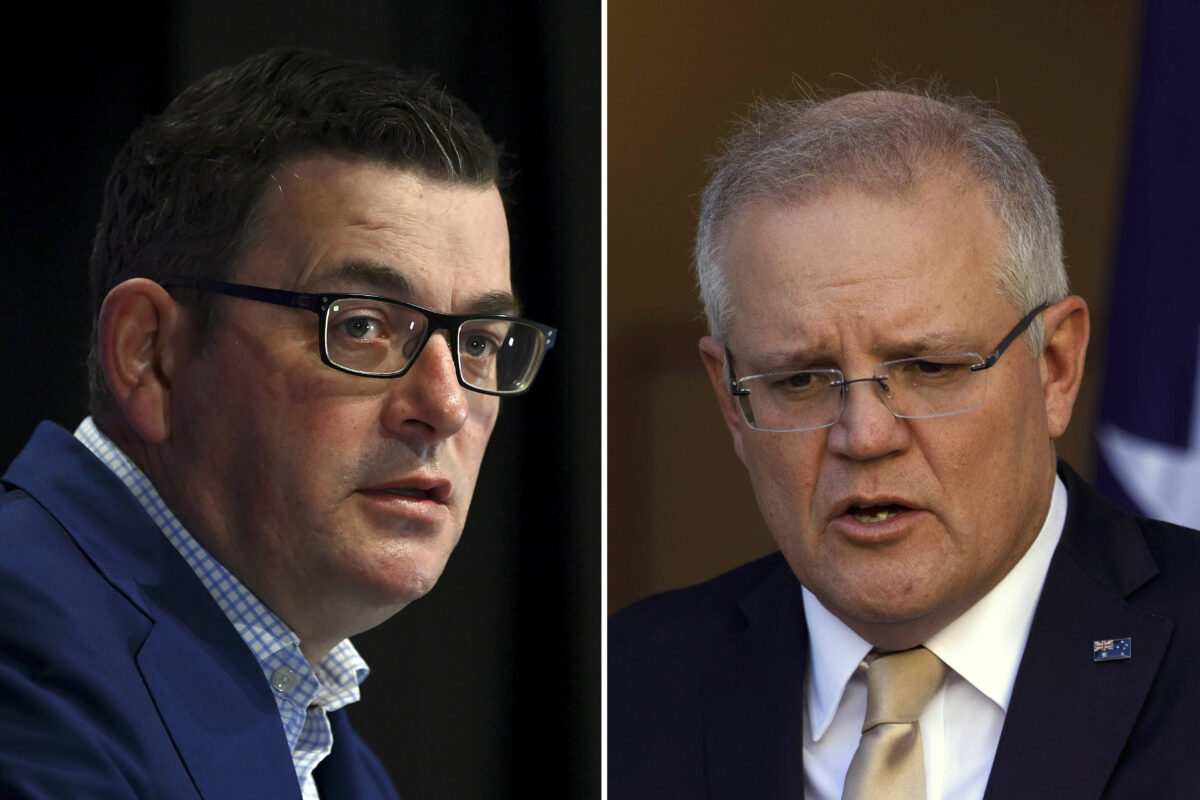 Prime Minister Scott Morrison on Aug. 26 raised concerns over plans by Victorian Premier Dan Andrews to extend State of Emergency powers for a further 12-months to combat the threat of the CCP virus.
Andrews on Aug. 24 announced he would push for the emergency powers bill amendment at next weeks sitting of Victorias Parliament. The current State of Emergency will reach its six-month maximum limit on Sept. 13, at the same time that stage four restrictions are scheduled to ease.
Speaking to reporters at a visit to Canberras Datapod facility, the prime minister said that he has taken up the issue about the proposals lack of transparency with Premier Andrews.
"Ive raised our concerns with the Premier about that. I did that directly. I know others have, I know other Labor figures have. And I think its important to dispel any uncertainty and get clarity around that issue," Morrison said.
Victoria has extended its state of emergency six times since March, on some occasions concurrently imposing or re-imposing restrictions.
During a press conference on Aug. 25, Andrews said the amendment will act as an "insurance policy" for his government to makes rules where needed to combat the CCP (Chinese Communist Party) virus, commonly known as novel coronavirus.
Morrison said his office had been inundated with calls of concern that the lockdown would extend for another 12-months if the bill is passed.
He stressed that under the "regrettably necessary" and "horrendous restrictions" people are frightened, and Andrews needs to be considerate of that.
"I dont think thats what the Premier was suggesting at all. But in these times, weve got to be very careful about the announcements that are made. And I welcome the fact that he was clarifying that yesterday," Morrison said.
"Im not seeking to get into any blame game here at all. I mean, I work constructively with the Victorian Premier, but where there are issues that need to be raised then Ill, of course, raise them with him."
At times, throughout the pandemic, Morrison and Andrews have disagreed on matters such as opening schools, using ADF support, and now the emergency powers bill.
Morrison admitted: "You dont agree on everything, but you certainly discuss everything."
Responding to the prime ministers remarks, when asked at a press conference on Aug. 26, Andrews said: "We dont necessarily agree on every matter. But were working very closely together."
Andrews implied Morrison should stay out of Victorias state affairs and should focus on federal business.
"He doesnt have to deal with these sorts of issues, and there are a whole lot of things that are on his plate that I dont have to deal with," he said.
"Public health and well being is an act of the Victorian Parliament. And Im confident through the constructive dialogue were having with the crossbench we will be able to make amendments to that act next week."
Andrews clarified that the public health and wellbeing act (Read More – Source