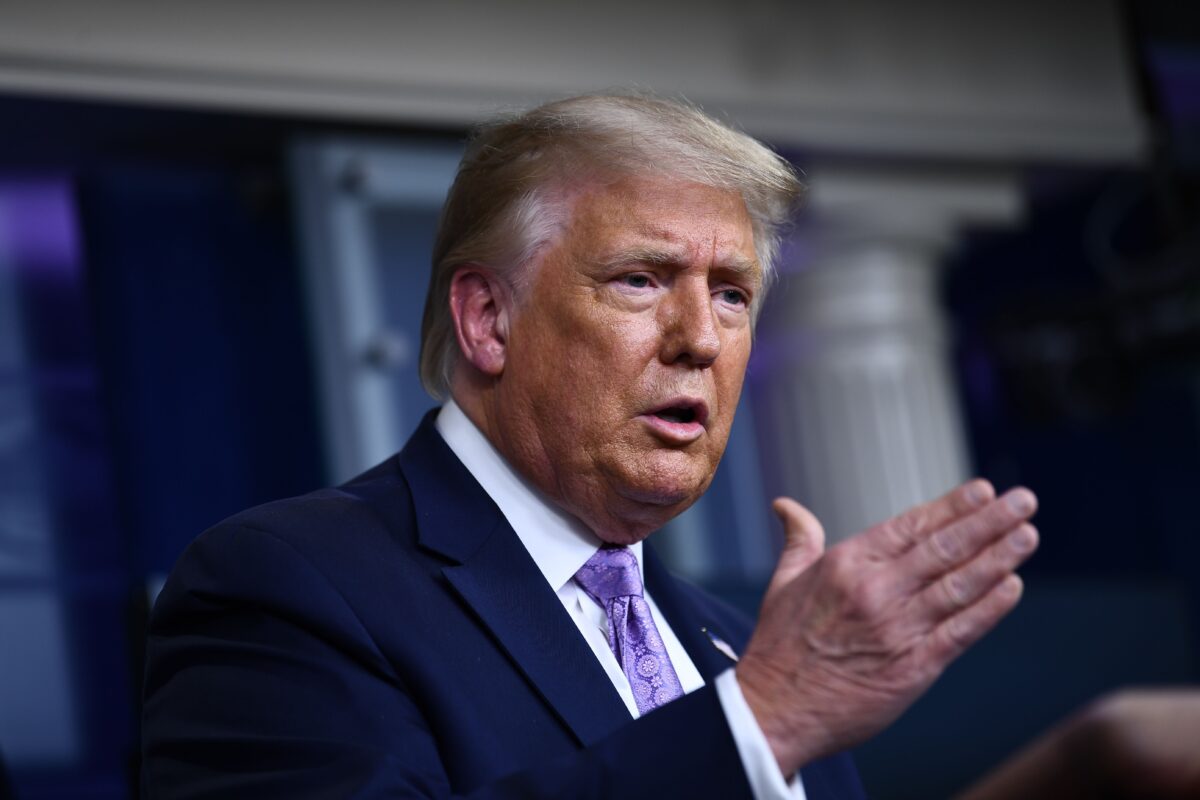 WASHINGTON—President Donald Trump on Thursday managed to pull off a rare victory for U.S. diplomacy in the Middle East ahead of his Nov. 3 re-election bid by helping to broker a deal between Israel and the United Arab Emirates as part of his administrations Middle East peace plan.
The Gulf monarchy and Israel agreed to a normalization of diplomatic relations. Per a request from Trump, Israel also said it would suspend declaring sovereignty over certain areas, including the West Bank, and is focused on expanding ties to other countries in the Arab and Muslim world.
Read MoreIsrael, UAE Agree to Establish Full Normalization of Relations
Soon after he sealed the agreement by phone with Israeli Prime Minister Benjamin Netanyahu and Abu Dhabis Crown Prince Sheikh Mohammed bin Zayed, Trump called it a "HUGE breakthrough" on Twitter and told reporters there were more things happening in the Middle East "that I cant talk about, but theyre extremely positive."
"After 49 years, Israel and the United Arab Emirates will fully normalize their diplomatic relations," Trump said. "They will exchange embassies and ambassadors, and begin cooperation across the board and on a broad range of areas, including tourism, education, healthcare, trade and security.
He added that the deal "will allow much greater access to Muslims from throughout the world to visit the many historic sites in Israel."
"I made clear that the problems of the Middle East can only be solved when people of all faiths come together to fight Islamic extremism and pursue economic opportunity for people of all faiths," he said of his Middle East peace plan.
Read MoreTrumps Middle East Doctrine Stands in Stark Contrast to Previous Administration
In Israel, Netanyahu told reporters that the Trump administrations peace plan is "most realistic and important formula for peace in the region."
The Netanyahu governments talk of annexing the West Bank had been an uncomfortable development for Washington, seen by many as a possible death knell to Trumps peace plan.
In early May, White House senior adviser Jared Kushner said that he hoped Israel would consider Trumps Middle East peace proposal before "proceeding with any plan" to annex the West Bank settlements of Judea and Samaria.
While Netanyahu told reporters after the call that annexation is "still on the table" and was something he remains "committed to," he clarified that "extending sovereignty will be done only alongside the United States."
"Without coordination, in the best case, will do nothing, and in the worst case, will harm relations between us," he added of potential future decisions.
U.S. Ambassador to Israel David Friedman when asked how long Israel might suspend its annexation plan told reporters at the White House, "Weve prioritized peace over the sovereignty movement but its not off the table. Its just something that will be deferred until we give peace every single chance.
"Its off the table now, but its not off the table permanently," he said.
Palestinian President Mahmoud Abbas said in a statement from Ramallah that he "rejects and denounces the surprising announcement by Israel, the United States, and the UAE," calling the UAEs decision a "betrayal of Jerusalem, Al-Aqsa Mosque, and the Palestinian cause." Gaza-based terrorist organization Hamas also decried the agreement.
Yousef Al Otaiba, the UAEs ambassador to the United States, offered reassurance to Palestinians, saying in a statement that the move "immediately stops annexation and the potential for violent escalation. It maintains the viability of a two-state solution as endorsed by the Arab League and international community."
He added, "The UAE will remain a strong supporter of the Palestinian people—for their dignity, their rights and their own sovereign state … We will forcefully advocate for these ends, now directly and bolstered with stronger incentives, policy options, and diplomatic tools."
During a call with President Trump and Prime Minister Netanyahu, an agreement was reached to stop further Israeli annexation of Palestinian territories. The UAE and Israel also agreed to cooperation and setting a roadmap towards establishing a bilateral relationship.

— محمد بن زايد (@MohamedBinZayed) August 13, 2020
Crown Prince Mohammed said on Twitter that the agreement with Israel would "stop further Israeli annexation of Palestinian territories."
A senior official from Netanyahus center-right Likud party applauded the agreement: "The Israeli and international left always said that it is impossible to bring peace with Arab nations without peace with the Palestinian people. That there is no other way except from withdrawing from the 67 borders, clearing out the settlements, dividing Jerusalem, and establishing a Palestinian state. This is the first time in history that Prime Minister Netanyahu broke the paradigm of land for peace and brought peace in exchange for peace.'"
Global Response
UK Prime Minister Boris Johnson welcomed the agreement.
"The UAE and Israels decision to normalise relations is hugely good news," Johnson said on Twitter.
"It was my profound hope that annexation did not go ahead in the West Bank and todays agreement to suspend those plans is a welcome step on the road to a more peaceful Middle East," he added.
The UAE and Israels decision to normalise relations is hugely good news. It was my profound hope that annexation did not go ahead in the West Bank and todays agreement to suspend those plans is a welcome steRead More – Source