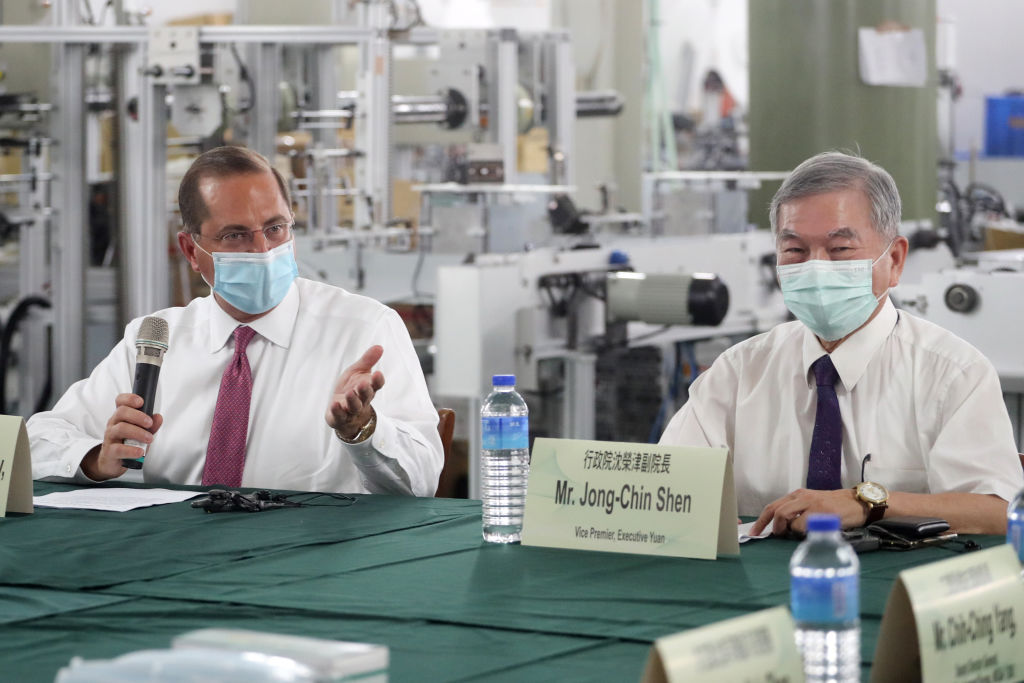 TAIPEI, Taiwan—U.S. Health and Human Services Secretary Alex Azar directed more criticism toward the Chinese Communist Party (CCP) over its mishandling of the coronavirus outbreak, on the final day of his four-day visit to Taiwan.
Compared to Taiwans transparent information-sharing, the Chinese regime showed "failure to share viral isolates from the initial [COVID-19] cases; the failure to disclose rapid human-to-human transmission; failure to disclose asymptomatic transmission; failure to allow in external experts to learn about the disease," said Azar on Aug. 12, hours before he and his delegation departed Taiwan.
Azar made the remarks during a telephone briefing with journalists that was hosted by the U.S. State Department of States Asia Pacific Media Hub in Manila.
Speaking with journalists across the Indo-Pacific region this morning about our visit to #Taiwan. The US and Taiwan share the belief that free and open societies are best equipped to combat infectious disease threats. @eAsiaMediaHub pic.twitter.com/nrU6YC7bqM

— Secretary Alex Azar (@SecAzar) August 12, 2020
COVID-19 is a disease caused by the CCP virus, commonly known as the novel coronavirus. The virus originated from the central Chinese city of Wuhan in late 2019 but Chinese authorities hid the outbreak from the public, holding back key information—such as the viruss capability to spread among humans.
In late December, Beijing silenced eight doctors, among them ophthalmologist Li Wenliang, when they disclosed on Chinese social media about the new form of pneumonia spreading in Wuhan. Li was later reprimanded by police for his actions.
"China could have–and should have–disclosed more information, more transparently, and more cooperatively regarding COVID-19," Azar said.
He also pointed to Beijings pressuring of the World Health Organization (WHO) to stop other countries from adopting border controls and travel restrictions during the early stages of the pandemic. The move, according to Azar, resulted in the virus being spread to Europe, and travelers in Europe then spread the virus to the United States.
At a WHO briefing on Feb. 4, WHO head Tedros Adhanom Ghebreyesus had advised countries against imposing travel restrictions, saying they "unnecessarily interfere with international travel and trade."
Tedros added: "Such restrictions can have the effect of increasing fear and stigma, with little public health benefit."
Azar applauded Taiwan again, one day after he made similar remarks during a speech at a local university, for standing "in contradistinction to the conduct of the Chinese Communist Party" when fighting the outbreak.
He said he hoped Taiwan could be included in international platforms so that other countries could learn from the island states public health expertise.
Currently, Taiwan is not a member of the WHO due to opposition from Beijing, who sees the island as a part of its territory and thus claims it could represent the island at the world health body.
Taiwan has earned international plaRead More – Source