The ex-Sudanese president's cronies tried to break him out of jail ahead of his trial
Elements loyal to the 75-year-old, who was ousted in a military coup in April following a protracted popular uprising, tried to free him from the notorious high security Kober prison in June, according to a police statement seen by CNN.No arrests or other details related to the incident were provided.Bashir's lawyer told CNN that the president had no involvement in the breakout attempt. "We have met with him twice since he was detained and not even once has he mentioned this alleged attempt, nor has he been accused by any authority of any involvement," Hashem Abu Bakr Al-Gaaly said.Since the incident, security around the autocratic former ruler has been ramped up, which was on full display Monday as Bashir arrived at the the Judicial and Legal Science Institute escorted by a convoy of military vehicles fitted with heavy machine guns. The trial was moved to the institute because it is close to Kober and easier to secure, Al-Gaaly told CNN.During the two-hour hearing, dozens of cars from Sudan's paramilitary forces surrounded the court and armed vehicles closed off surrounding roads.The greying former ruler, who appeared in a court cage, is pleading not guilty to charges of possessing foreign currency, corruption and receiving gifts illegally.CNN previously reported that sacks full of cash had been found in Bashir's home after he was deposed. Addressing the court, a state investigator outlined the foreign funds Bashir allegedly told them he had been given to distribute as "donation and gifts for the poor," including $25 million from Saudi Arabia's Crown Prince Mohammed bin Salman. The investigator also said that Bashir claimed to have received $35 million from the late Saudi King Abdallah bin Abdelaziz al-Saud and $1 million from Sheikh Khalifa bin Zayed, the President of the United Arab Emirates, for similar reasons.A spokesman for the UAE government said it does not comment on internal legal proceedings in other countries. Saudi Arabia did not respond to CNN's request for comment. Bashir's lawyer dismissed the accusations, telling CNN the deposed president had not taken the money for his own personal gain."We are reaffirming that the former president did not benefit from even one dollar of this sum and didn't even have a foreign currency account," Al-Gaaly said.Another investigation is still ongoing into charges that Bashir incited and was criminally complicit in the killing of demonstrators during months of popular demonstrations that began over a rise in the cost of living, but escalated into a push for his removal.The start of the trial comes two days after opposition leaders and military generals signed a power-sharing agreement — the first step on the road to forming a civilian government.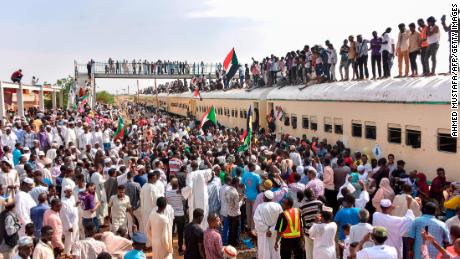 Prison break
After three decades in power, Bashir was arrested and forced from his position in a military coup. His removal came following months of popular protests that saw thousands take to the streets across the northeastern African country.Since his fall from power, Bashir has been imprisoned in the same notorious Khartoum jail where generations of political dissidents have been held under his rule.Bashir's four months in Kober prison have been punctuated by an attempted jailbreak, his transfer to a safehouse, an unannounced visit from his previously unaccounted-for second wife and a plague of mosquitoes.In the wake of a bloody crackdown by security forces on protesters, "rogue elements" within the regime tried to break into the prison on June 4, with the aim of freeing Bashir and other jailed members of the regime, according to a police report.
At the time, the capital was on lockdown. Just a day earlier, scores of people were killed when soldiers opened fire on an opposition encampment. Demonstrators and paramilitary forces faced off in the streets of Khartoum, bringing the city to a standstill. Taking advantage of that chaos and instability, Bashir loyalists descended on Kober in an attempt to free the deposed leader, but they were thwarted, according to the police statement.The attempt heightened concerns among Sudan's opposition that the apparatus which had long propped up Bashir was still functioning. That worry has underpinned the events that have unfolded since, including calls for the dismantling of the "deep state" Bashir left behind.After his failed escape, Bashir was transferred to a safehouse on the banks of the Nile River in an upscale part of Khartoum not far from the president's former residence. The safehouse, ring-fenced by security forces, was once the home of ex-intelligence chief Mohamed Atta al-Moula. After a month, he was moved back to Kober with even more security, as well as amenities he had requested.Read More – Source