Theresa May has called for discussions about future NHS funding to remain private after Boris Johnson publicly called for more money after Brexit.
Before Tuesday's cabinet meeting, it was widely reported that the foreign secretary would pitch for a £100m a week "Brexit dividend" for the NHS.
The BBC understands he did not end up mentioning "specific figures".
No 10 said Mrs May chaired a discussion on post-Brexit funding options but made clear conversations should be private.
The BBC's political editor Laura Kuenssberg said the PM's remarks on the need for confidentiality were "pointed".
However, she said Mr Johnson was backed by some colleagues while the principle that the NHS would get some of the money which will become available after the UK leaves in March 2019 was agreed.
Why did Boris Johnson put issue on the agenda?
In the run-up to Tuesday's cabinet meeting – in which Health Secretary Jeremy Hunt gave an update on the "significant" winter pressures" facing the NHS – it was reported that Mr Johnson wanted to kick start a wider debate about NHS funding.
In a highly unusual move, sources told the BBC Mr Johnson would not only call for a £5bn annual injection of funding after Brexit but warn his party against "abandoning the territory" to Labour, which vowed at last year's election to spend £37bn more over the next five years.
If you can't see the NHS Tracker, click or tap here.
A source close to Mr Johnson said he was frustrated at what he perceived as Downing Street's lack of action on the issue given the levels of public anxiety about how the NHS is faring.
During the referendum campaign, Vote Leave – of which Mr Johnson was a leading supporter – claimed £350m went to the EU each week and money could instead go to the NHS, a claim he has repeatedly defended since.
Skip Twitter post by @BBCNormanS
Am told Boris Johnson "very concerned" over pressures on NHS following visit with Jeremy Hunt to his local Uxbridge hospital

— norman smith (@BBCNormanS) January 23, 2018
End of Twitter post by @BBCNormanS
However, when it came to it, the BBC's assistant political editor Norman Smith said neither Mr Johnson nor any other minister raised a specific figure during what No 10 said was a "wide ranging" hour-long discussion.
How Downing Street reacted
Firmly, in one sense.
A No 10 spokesman said the prime minister and "a large number of Cabinet ministers" had made clear that their discussions should take place in private.
On the broader political point, Downing Street said the PM reminded ministers that the government has repeatedly said contributions to the EU budget which end after Brexit would be able to be spent on domestic priorities including the NHS.
"There will also be other calls upon that money but we will discuss those priorities at that time," a spokesman said.
In a further rebuff to Mr Johnson, Chancellor Philip Hammond said he had given the NHS an extra £6bn in November's Budget, including £2.8bn to be spent over the next two years,
Mr Hammond, who was in Brussels for a meeting of EU finance ministers, told reporters Mr Johnson was "the foreign secretary" not health secretary and the right time to revisit the long-term issue of NHS spending was at the next departmental spending review expected early next year.
Is Mr Johnson a lone voice?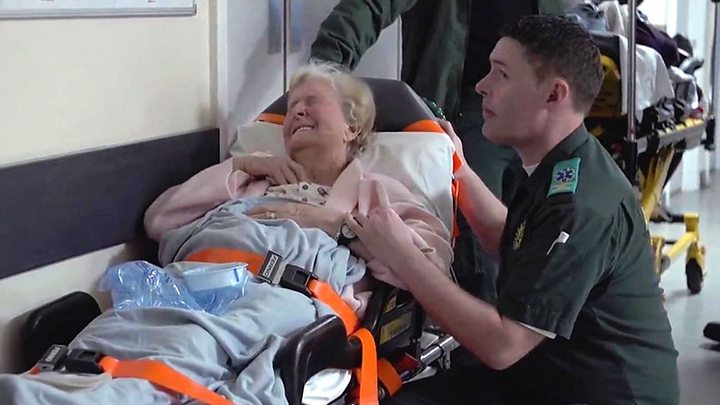 No, far from it. The BBC understands that Chris Grayling and Michael Gove were among other cabinet ministers to rally round Mr Johnson at Tuesday's meeting.
Growing numbers of Tory MPs are openly expressing their frustration with what they say is No 10's unwillingness to confront the long-term financial challenges facing the health service.
Conservative MP Mark Pritchard told the BBC News Channel the foreign secretary was right to speak out.
"I support Boris, he's right. But I think whether it's Boris or Theresa May or Jeremy Hunt, in the longer term there needs to be political leadership about how we fund the NHS going forward in the twenty-first century."
As for Jeremy Hunt, he said no health secretary would "not support potential extra resources" for the NHS.
Asked how he felt about Mr Johnson being the one to make the case, he said there was "a Brexit debate and an NHS debate and just occasionally these two debates come together".
How Labour reacted to it
Labour's shadow health secretary Jonathan Ashworth said he welcomed calls for more funding but accused Mr Johnson of seeking to "weaponise" the NHS for his own "tedious political games".
"If the government was really serious about putting money into the NHS, they would have done it in the Budget last autumn," he told the BBC's Victoria Derbyshire show. "We did not hear a peep from him then."
The Institute for Fiscal Studies – a think tank – has said the UK will almost certainly have to increase the share of income devoted to health funding to deal with demographic challenges.
Its director Paul Johnson said "that will mean higher taxes" and "governments will need to explain that honestly".
Lib Dem leader Vince Cable suggested Mr Johnson and his colleagues begin this process now.