Disgraced former NBC News star Matt Lauer reportedly focused his attention on interns, script-runners, and bookers during his time at the network as more detailed allegations of sexual misconduct against the morning-show host continued to emerge after his firing Wednesday.
An unnamed former colleague of Lauer's at NBC expressed doubt in a Vanity Fair report about network executives' claims that they did not know about the misconduct accusations against the former Today anchor.
One colleague told the outlet that Lauer regularly spent time giving career counseling to young women in his office, while routinely focusing his attention on the network's young interns and production assistants. The source added that Lauer likely felt "beleaguered" by rumors of infidelity and tabloid attention, and so felt more comfortable at NBC's offices.
"So I think the only place he could really operate was in his office and then when he was on the road. And there was a lot of him bringing attractive young women into his office for counseling and where he would talk to them about their career," the colleague told Vanity Fair.
Co-host Matt Lauer appears on NBC's "Today" at the NBC's TODAY Show on August 22, 2014 in New York City. (Michael Loccisano/Getty Images)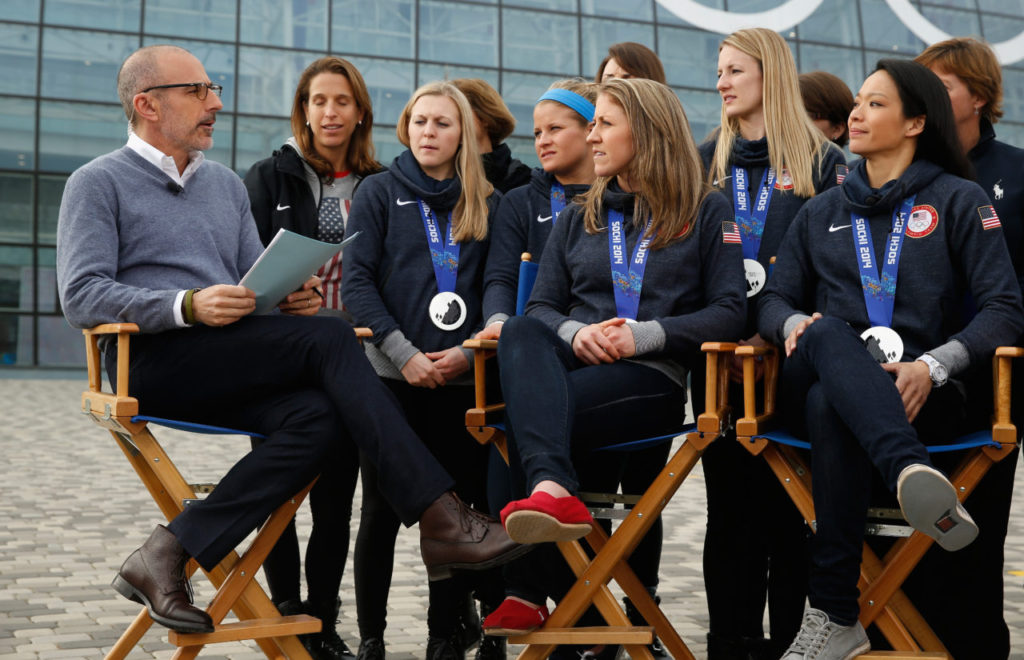 Matt Lauer of the NBC TODAY Show speaks with members of the USA Women's Hockey team in the Olympic Park during the Sochi 2014 Winter Olympics on February 21, 2014 in Sochi, Russia. (Scott Halleran/Getty Images)
According to the report, NBC News chairman Andy Lack went to Lauer's apartment Tuesday evening to fire him.
"On Monday night, we received a detailed complaint from a colleague about inappropriate sexual behavior in the workplace by Matt Lauer. It represented, after serious review, a clear violation of our company's standards," Lack wrote in a memo to the network's employees Wednesday. "As a result, we've decided to terminate his employment. While it is the first complaint about his behavior in the over twenty years he's been at NBC News, we were also presented with reason to believe this may not have been an isolated incident."
On Wednesday, the New York Timesreported that NBC News had received two more complaints about Lauer, including one from a woman who claimed the anchor asked her to unbutton her blouse and had intercourse with her inside his office. The woman told the paper she passed out during the alleged incident, woke up on the floor of Lauer's office and was later taken to see a nurse.
Variety published its own story Wednesday based on a two-month investigation detailing allegations of sexual misconduct from multiple women against Lauer, one of the highest-paid anchors in television news and a 20-year NBC veteran. One woman alleged that Lauer exposed himself to her and then reprimanded her for not engaging in a sexual act with him, while another claimed the anchor once gifted her a sex toy, along with an explicit note explaining he wanted to use it on her.
Variety also reported that Lauer's desk contained a button that allowed him to lock his office door without getting up to do it manually. A representative for the network said the button was installed as a security measure for top talent and executives.
One "high-level industry source" told Vanity Fair Wednesday that Lauer's alleged behavior was an ill-kept secret.
"I don't know what everyone is so surprised by," the source said. "This has been going on for months and months and everybody knew it and it was just going to be which girl came forward, and who reported it first."
Lauer was fired just before NBC's Wednesday evening broadcast of the annual Christmas tree lighting at Rockefeller Center in New York, which he has co-hosted since 1998. The network was reportedly forced to edit a significant amount of pre-taped footage of Lauer out of the broadcast as co-hosts Savannah Guthrie, Hoda Kotb and Al Roker anchored the event without him. On Thursday morning, Guthrie read an apology statement from Lauer on air.
"Some of what is being said about me is untrue or mischaracterized, but there is enough truth in these stories to make me feel embarrassed and ashamed. I regret that my shame is now shared by the people I cherish dearly," he said in the statement, adding that "repairing the damage" would now become his "full-time job."
One former colleague told Vanity Fair that Megyn Kelly — who joined NBC News earlier this year for a reported $23 million per year — was rumored to have been involved in encouraging women to air their stories about Lauer. Kelly said during an appearance at a forum Thursday that she had "no official knowledge" of Lauer's behavior but had heard "rumors" and "hoped" they weren't true.
"There's a lot of speculation that Megyn Kelly was directly involved in getting women to come forward," the source told the outlet.
The Daily Mailreported Thursday that the embattled anchor drove from his estate in the Hamptons into town to meet briefly with his friend, attorney Eddie Burke Jr., and handed Burke an envelope before going back home. Burke reportedly specializes in real estate and criminal law.
Meanwhile, Page Six reported Thursday evening that Lauer's attorneys were working to ensure the disgraced anchor would still be paid through the remainder of his contract, what was set to run until the end of 2018. Lauer's contract reportedly earned him at least $20 million per year.
Follow Daniel Nussbaum on Twitter: @dznussbaum